King and Country BAM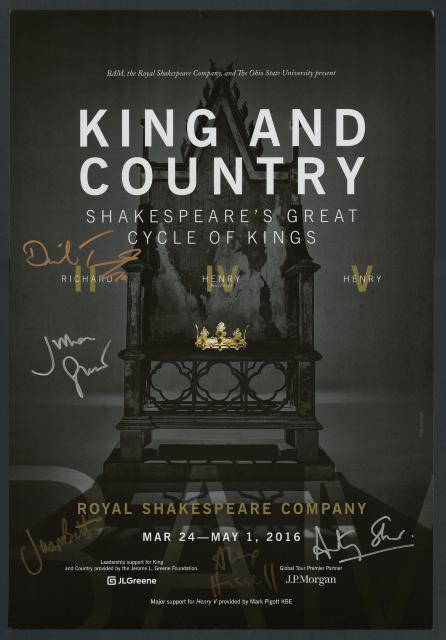 The Royal Shakespeare Company recently finished a run of "King and Country" a series of four of Shakespeare's history plays performed at the Brooklyn Academy of Music.
The opportunity to see "Richard II", "Henry IV" (Parts 1 and 2) and "Henry V" does not come along very often. The RSC's new (since 2013) Artistic Director is Gregory Doran and he directed all of these productions.
The highlights, for me, were David Tennant's Richard II and Antony Sher's Falstaff. Tennant's layered performance was filled with passion, strength, and humor.
He had an ability to make the verse sound natural without losing the beauty of the poetry. That is not easy to do.
Sher breathed new life in to a character that has been performed by so many extraordinary actors including Simon Russell Beale, Kevin Kline, Orson Welles, and Robbie Coltrane to name a few, that it's hard to imagine someone finding something new. But this incredibly creative actor did just that.
Falstaff was funnier than I've ever seen him but also touching and vulnerable. Over the years, I have seen Sher play numerous roles.
For example, he performed Malvolio in "12th Night", Shylock in "the Merchant of Venice", and Richard III in "Richard III". I have always found his performances exciting, truthful, inventive and memorable. His Falstaff goes to the top of this list.
I attended Henry IV (Part 1) with a group of my students including some from my private classes and some from my Graduate Acting Class at NYU.
The students enjoyed the production and were excited by Sher's performance.
One of them was working on a production of "Hamlet" at NYU. Afterward she said that hearing the actors had inspired her and had given her new ideas for her own performance. After the productions of "King and Country", I checked the Audio Shakespeare Pronunciation App to be sure the actors were pronouncing the words correctly!